SEPTEMBER: Caramel
1st September 2023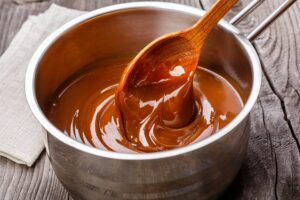 The Flavour
Caramel flavour is a timeless favourite chosen for its delightful, sweet, and rich taste. It replicates the essence of caramelised sugar, a culinary marvel that is characterised by its sweet, slightly burnt sugar notes and a hint of buttery richness.
The origins of caramel flavouring lie in the process of caramelisation, which involves heating sugar to create this signature taste. A product of the Maillard reaction where amino acids react with reducing sugars with the addition of heat.
Caramel's versatility is evident in the vast array of foods and dishes it enhances. It's a star in the dessert world. Not limited to the sweet realm, caramel also finds its place in savoury dishes. It's used in sauces to add a touch of sweetness and depth to meats and vegetables.
Trending Categories
While caramel flavour remains a classic in the dessert category, it's also experiencing a resurgence in popularity. You'll find it trending in the beverage industry, with caramel-flavoured coffee being the top flavour for growth in share by 4.5% in the United Kingdom (Apr 2022 – Mar 2023 vs Apr 2021 – Mar 2022)*. It is also gaining popularity with consumers in cocktails.
Flavour Pairings
Caramel pairs exceptionally well with vanilla, enhancing its sweet and creamy characteristics. Additionally, it complements chocolate by adding a rich, buttery sweetness to balance the bitterness of cocoa, as well as smoke flavours too. Look out for Oak Smoked Caramel in our latest Christmas presentation.
Applications
Caramel flavouring's applications are vast, making it a staple in products like ice cream, candies, syrups, and sauces. It also lends its irresistible charm to flavoured coffees, liqueurs, and baked goods such as cookies and brownies.
What makes caramel flavouring particularly appealing to manufacturers is its ability to bring luscious sweetness and complexity to their products. It enhances the indulgent profile of desserts, infusing them with a savoury, nutty character when combined with butter or cream. Manufacturers can leverage caramel flavour to evoke feelings of nostalgia and comfort, making their products more enticing to consumers seeking a satisfying and familiar treat.
Find out more
Create Flavours are British producers of natural and clean label, savoury, sweet and beverage flavourings. Working from our allergen-controlled facility in Somerset, we design and manufacture premium food and drink flavourings and extracts.
To sample our caramel or any of our savoury, sweet or beverage flavourings; contact us or call your account manager on 01275 349 300.
Create Flavours are part of Nactarome, a global food flavourings and ingredients group. Click here to discover how we can help build your growth vision.
*Innova Market Insights, Aug 2023