OCTOBER: Brown Butter Basted Roast Turkey
2nd October 2023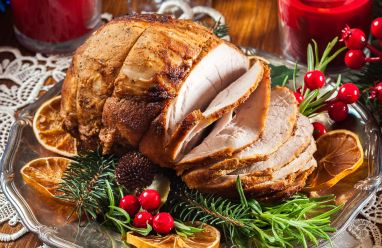 The Flavour
During Christmas in the UK, roast turkey holds a special place of significance and is a central element of the UK's Christmas culinary heritage. It becomes the key ingredient that embodies the essence of a traditional Christmas dinner, an iconic symbol of the festive feast. A star of Christmas dinner tables across the country.
Our Brown Buttered Basted Turkey Flavour boast the classic flavour of turkey with its subtle herb notes and roasted skin along with the indulgent profile of Brown Butter
Brown butter or Beurre noisette as it is also known gets its name from the hazelnut-like flavour it develops during the cooking process. As the butter heats and the water content evaporates, the milk solids in the butter begin to brown, giving the butter a distinct nutty aroma and flavour.
The browning of the milk solids also imparts a toasty or caramelized note to the butter. This toasty flavour adds depth and complexity to dishes, making them taste richer and more sophisticated. Despite its transformation into a nutty and toasty substance, beurre noisette retains a fundamental buttery essence. It still possesses the creamy, buttery base that makes it incredibly smooth and indulgent.
Flavour Pairings
Our Brown Butter Basted Turkey flavour pairs beautifully with classic Christmas ingredients such as cranberry, sage, rosemary, and thyme. These pairings elevate the festive and comforting appeal of holiday dishes, creating a symphony of flavours.
Roast turkey flavouring at Christmas in the UK is not just a flavour; it's a cultural tradition, a taste of home, and a way of celebrating the season with warmth and nostalgia.
During the festive period in the UK, roast turkey flavouring brings a slice of tradition to a plethora of products. It enables manufacturers to capture the essence of Christmas and offer consumers the comforting and beloved flavours synonymous with this special time of year. From turkey-flavour crisps to gravies, breaded products, and limited-edition ranges in the party food aisle, it enriches the festive culinary landscape.
Available in Liquid and Powdered formats, our twist on the classic Roast Turkey boasts a rich, savoury profile with delightful hints of aromatic herbs and caramelised milk notes.
Find out more
Create Flavours are British producers of natural and clean label, savoury, sweet and beverage flavourings. Working from our allergen-controlled facility in Somerset, we design and manufacture premium food and drink flavourings and extracts.
To sample our brown butter basted roast turkey or any of our savoury, sweet or beverage flavourings; contact us or call your account manager on 01275 349 300.
Create Flavours are part of Nactarome, a global food flavourings and ingredients group. Click here to discover how we can help build your growth vision.