OCTOBER: Ginger
1st October 2022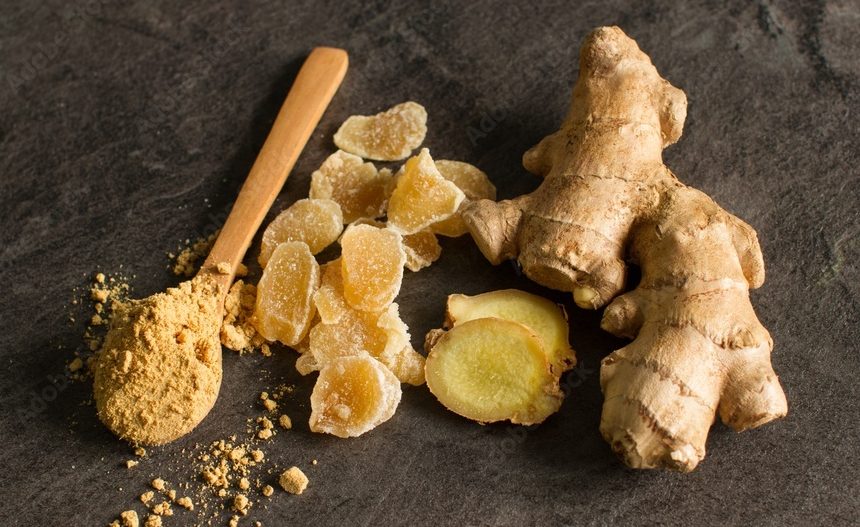 As the nights draw in and mercury drops, we naturally turn to warmer, richer flavours for comfort through the winter.
Ginger is mainly grown in Southern China, India, Indonesia, and West Africa. It has been used as a spice and medicine in Europe since Roman times and for even longer in Asia and the Far East (the Romans imported Ginger from India). This globally popular and well-used flavouring is utilised today sweet and savoury food and drinks.
Origins in nature
The spice we consume is usually taken from the root of the Ginger plant and originates from a group of floras sharing the Latin name of Zingiberaceae. It is a herbaceous perennial which grows stems of about one meter tall with narrow leaf blades. The stems have pale yellow flowers with purple edges, and arise directly from the rhizome on separate shoots.
The Ginger family contains some edible and some ornamental vegetation. Common Ginger (Zingiber Officinale) is the most recognised sub-species in the family. It is cultivated on a large scale for public consumption and finds usage in all forms; fresh, powdered, liquid and dry. Common Ginger is the type usually found fresh and powdered in supermarkets and can also be called Canton ginger, true ginger or cooking ginger.
Flexible usage
Fresh ginger root benefits cooking and marinating in paste or grated forms
Ginger extracts also find use in medical, packaged edible items, and hot beverages
Ginger powder is vital in baking, cooking, and making cold beverages like ginger beers and ales
It is also widely used as a flavouring for ginger wine, ginger tea, flavours for energy shots, kombucha and liqueurs. This broad range of flavouring usage makes ginger an important flavour for the beverage industry.
The profile of our CLN-90297 ginger flavouring is complex, with taste characteristics including fiery, spicy fresh, zesty, earthy, zingy peppery, sweet and warm. The compound zingiberene is a major component in its essential oils giving ginger its distinct flavour and its earthy tones.
Ginger is popularly used across the food manufacturing sector. Fresh ginger featuring in Asian cooking, with dried ginger being used in traditional puddings such as gingerbread and parkin and crystallised stem ginger often paired with dark chocolate in indulgent confectionery treats.
Why now?
Bold fiery flavours are a key trend in 2022 and ginger fits this profile perfectly – especially in the beverage sector where the flavour can be used as a standalone one or as a punchy a compliment.
Perfect pairings
Ginger compliments other spices including cinnamon and nutmeg to create warming winter drinks and conversely lemongrass, mint and vanilla for a lighter summery feel – Which can be achieved with a more citrussy profiled ginger flavouring such as CLN-88506.
Serving suggestion
Ginger CLN-90297 works well in all beverages, especially coffee shop syrups and NoLo ready to drink beverages. Our customers tell us it enhances indulgent profiles in products, bringing a savoury, nutty character that is warm and reassuring.
Ginger CLN-90297 enhances warmth, creates an earthy, rich profile. The perceived heat from the flavour can also help enhance the feeling of an alcohol "hit" when used in no and low alcohol beverages.
Find out more
Create Flavours are British producers of natural and clean label, savoury, sweet and beverage flavourings. Working from our allergen-controlled facility in Somerset, we design and manufacture premium food and drink flavourings and extracts.
To sample our ginger flavourings or any beverage, savoury or sweet flavourings; contact us click here or call 01275 349 300 to talk with your account manager.
Create Flavours are part of Nactarome, a global food flavourings and ingredients group. Click here to discover how we can help build your growth vision.