OCTOBER: Toffee Popcorn
1st October 2020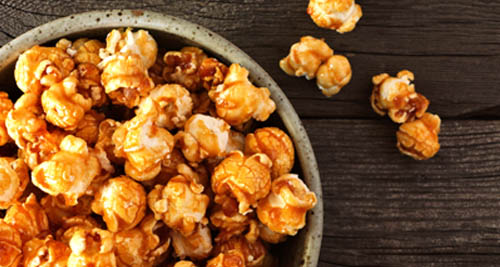 Fuelled by Instagrammable food and drinks, consumers are continuing to drive the ultimate indulgent trends. Toffee popcorn satisfies consumers searching for intense, sweet dessert profiles across all categories.
Introduced to the UK by the US Army during World War 2, toffee popcorn hit the mainstream in the 50s and 60s as the perfect cinema snack.
Ready-to-eat popcorn continues to find a willing audience at both end of the dietary spectrum. Both nutritious healthy options and sweet flavours seeing growth.
Consumers are indulging in treats which have flavour profiles rooted in nostalgia. Comfort in familiarity is key. Indulgence is a regular part of consumers lives, celebrating with food.
The flavour profile of toffee popcorn is nutty and toasted, evoking that iconic popcorn aroma, followed with creamy, buttery toffee notes. This flavouring is used in a wide range of products including desserts, snack seasonings, biscuits and cakes as well as confectionery and beverage products.
If you would like to discuss our range of core and on-trend sweet flavourings, please contact your Account Manager, click here.