JUNE: Vegan-Friendly Chicken
1st June 2022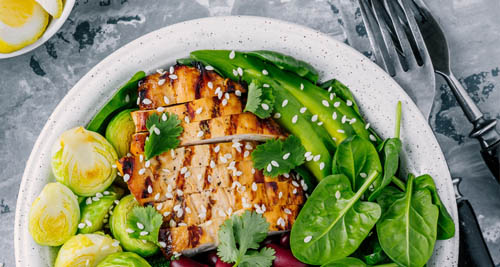 Dedicated to taste
In recent years, vegan and vegetarian products are becoming more mainstream, with two-thirds of British people reporting that they have eaten meat-free foods in the last six months*.
At Create Flavours, we're very aware of consumer demand for new product development in this category. Our experienced team of flavourists are constantly experimenting with new raw materials to create the most cost-effective, satisfying solutions without compromising on taste.
Vegan suitable
As vegan diets becoming more popular, our customers are looking for top-note flavours to boost the authentic taste of  their vegan product developments. All of our flavourings are allergen controlled and vegan friendly. This month we're having a look at our SET2 chicken flavour as an industry leading example of authentic meat profiles.
Our natural chicken flavouring replicates a cooked chicken profile – especially the top notes often found in a chicken nugget for example. The flavouring contains the compound decadienal to mimic the deep fat buttery notes. Dodecalactone is also present. This provides the majority of the cooked chicken notes as it develops after the cooking process, adding caramellic notes. White chicken meat notes are added as well as brown meat notes which are higher in fatty acid tastes to give a complete and rounded authentic chicken flavour.
From roasted whole to completely processed into reformed burgers chicken is used extensively across menus. As the category develops, we can see a rise of flavoured vegan plant-based products. Protein technology and vegan meat analogues are improving along with consumer expectations.
Versatile applications
Chicken can often be thought of as bland especially the less worked white meat that lacks fatty amino acids. However, this works in the favour of the humble bird as it complements a wide array of additional flavours. Due to global popular usage it also suits most continent's cuisines.
The chicken flavourings that our team have developed are all vegan suitable are work in a range of meat analogues. These include matrix's that have fava, soy, and pea protein bases. It is also suitable for use in an array of other applications such as seasoning and sauces.
Our chicken flavourings add a rounded, more complete top note to your product which enhance the taste and complement the texture of any vegan based analogue.
Find out more
Create Flavours are British producers of natural and clean label, savoury, sweet and beverage flavourings. Working from our allergen-controlled facility in Somerset, we design and manufacture premium food and drink flavourings and extracts.
To sample our chicken range or any beverage, savoury or sweet flavourings; contact us click here or call 01275 349 300 to talk with your account manager.
* Mintel, Veganuary Report 2020