NOVEMBER: Bonfire Smoke
1st November 2023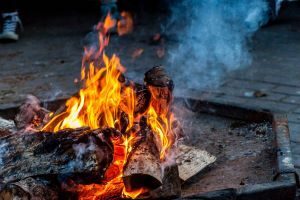 The Flavour
Bonfire Smoke evokes nostalgic memories of smoky hotdogs on Guy Fawkes night in the autumn and toasting marshmallows around a fire pit in the late summer evenings. Earthy, sweet, and of course smoky in taste Bonfire smoke flavour also adds charred and toasted notes to your product. Bonfire smoke is one of our many smokes to be launched later this month in our smoke collection.
At Create Flavours we have expertise in the science of natural smoke flavourings, allowing us to replicate the profile achieved during the smoking process with natural flavouring substances, ensuring a consistent, clean flavour. Our natural smoke flavouring collection captures the essence of traditional smoking processes, providing a rich, smoky aroma and savoury taste akin to campfire-cooked meals and slow-smoked barbecue. All are labelled as 'Natural flavouring' and are not 'Smoke flavouring' as regulated by (EU)1321/2013.
Trending Categories
As the legislation around primary smokes evolves, natural flavourings with a smoke profile are in increasing demand. The Institute of Food Technologists first named smoke as a trend over 5 years ago and it has been growing ever since. According to Innova Market Insights (2023), smoked is the top flavour in the meat category by a long mile, beating chilli and cheese. But it's not just about smoked meats. Smoke is popular across the sweet, savoury and beverage categories. From smoked bourbon old fashioned cocktails to smoked s'mores cheesecake; there's something for every course.
Flavour Applications
Applications for natural smoke flavourings are widespread, including BBQ-flavoured snacks, nut seasonings, meat rubs, salad dressings, and ready-to-drink beverages. Our technical expertise accommodates a wide range of uses, tailored to specific needs, making our offerings adaptable and unique.
A key benefit to our smoke collection is their authenticity. As consumers seek clean labels and natural ingredients, our products, derived from natural sources, provide the genuine taste of smoke without artificial additives. In a market valuing authenticity and quality, our natural smoke flavourings can elevate your snacks and keep you ahead.
Available in liquid and powder formats our smoke collection is versatile and suitable for various products such as crisps, tortilla chips, mixed nuts, beef jerky, popcorn, and beverages. They enhance product profiles, often combined with ingredients like aged cheese, maple, and honey for a balanced sweet and savoury experience.
Find out more
Create Flavours are British producers of natural and clean label, savoury, sweet and beverage flavourings. Working from our allergen-controlled facility in Somerset, we design and manufacture premium food and drink flavourings and extracts.
To sample our bonfire smoke or any of our savoury, sweet or beverage flavourings; contact us or call your account manager on 01275 349 300.
Create Flavours are part of Nactarome, a global food flavourings and ingredients group. Click here to discover how we can help build your growth vision.