JULY: Pink Grapefruit
1st July 2022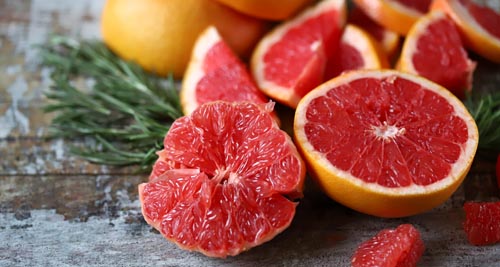 From breakfasts to cocktail hour, pink grapefruit pops up throughout menus across the world. The fruit is particularly prominent in modern Asian-style dishes and often coupled with coriander to cut through fatty dishes (like pork belly) or added to alcoholic beverages (especially gin and cocktails).
Complex fresh flavour
Pink grapefruit is a citrus hybrid of pomelo and orange. It owes its distinctly citrussy flavour to a molecule called grapefruit mercaptan. Naturally scented, the pink grapefruit sweet yet slightly herbal with woody, almost musky notes.
There are three most common varieties of grapefruit commonplace today; red, yellow and pink. Red grapefruits have a sweet red flesh. Yellow grapefruits have a creamy skin and are known for having a bitter taste profile. The pink grapefruit is sweeter than the yellow and is often through of as the most palatable.
Perfect pairings
The flavour profile of pink grapefruit brings a unique citrus taste which will lift and refresh dishes. In terms of flavour pairings, pink grapefruit compliments other familiar citrus fruits, such as oranges and lemons, to create a fully rounded citrus profile.
Pink grapefruit also works well with typical citrus counterparts like seafood and can complement other strong flavours like blue cheese. Pink grapefruit has been synonymous with gin cocktails in recent years but also works well with stronger cherry based cocktails and brightens lemonades.
Our pink grapefruit flavourings are available in both liquid and powder formats so are suitable for a variety of applications. The full citrus collection include a range of natural flavourings and 95/5 flavourings.
Find out more
Create Flavours are British producers of natural and clean label, savoury, sweet and beverage flavourings. Working from our allergen-controlled facility in Somerset, we design and manufacture premium food and drink flavourings and extracts.
To sample our citrus collection or any beverage, savoury or sweet flavourings; contact us click here or call 01275 349 300 to talk with your account manager.