AUGUST: Rare Beef Steak
1st August 2020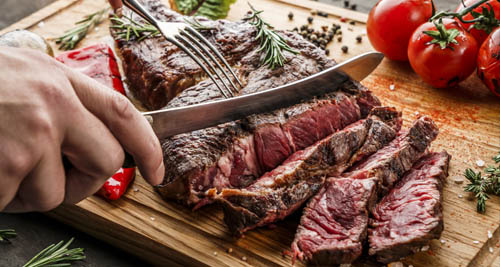 Our Rare Steak flavouring is just part of our comprehensive Beef Collections. It is one of a wide range of meat flavourings which have become increasingly popular recently due to the surge in development of plant-based foods.
The most flavourful steaks are ones with abundant fat marbling. Ribeye is widely considered the most juicy and flavoursome cut. It's rich, beefy, robust and fatty. Our Rare Steak is a juicy beef flavour with metallic bloody notes replicating the soft, bright red centre. There are slight blackened notes from the charred outside add a deep savouriness. The background fatty notes provide succulence and mouthfeel.
A steakhouse favourite, beef is often paired with the classic sauces – Peppercorn, Diane, Blue Cheese. Or more simply with a garlic & herb butter, vine roasted tomatoes, parmesan & rocket salad.
This flavouring is great in meat replacement products, snack seasonings, soups, stocks, gravies and coatings. It also adds an authentic beef note to creamy sauces.
If you would like a sample from our natural Beef Collection, please contact your Account Manager, click here.