JANUARY: Yuzu
1st January 2022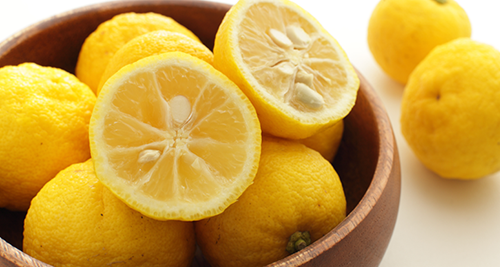 Yuzu is a tart citrus fruit, yellow in colour, that has soft flesh, thick peel and big seeds. It is considered to be a cross between mandarin lemon and grapefruit with a hint of sweet spice. A truly unique flavour.
It is strong enough to stand up on its own, as well as being paired to compliment other fresh flavours. Yuzu can be used to add a complex citrus note to salad dressings, sauces, marinades, beverages and desserts. The fruit pairs well with lemon, orange, kumquat, grapefruit, ginger, matcha. Or try pairing it with soy for a savoury twist.
Traditionally and prominently used in Japanese cuisine, you'll find it in modern recipes include jams, sorbets, and pies. British chefs are using the ingredient more. Sat Bains combines yuzu with jasmine and milk, and Luke French of Joro restaurant using a Yuzu custard with sorrel granita and honeycomb.
Yuzu appears in Whole Foods Market trend report, noting it's popularity in dressings and hard seltzers. Yuzu jam is rivalling lemon curd too, with SousChef reporting 57% growth in sales, showing the home cook is getting to grips with the flavour too.
Our 95/5 natural yuzu flavouring brings a fresh, bright note to your product, enhancing the exotic citrus top note. Being a 95/5, it can be depicted on pack.
Exotic citrus fruits will remain in the spotlight as we head further into the year. Lemon and lime will remain the staple. But the consumer is starting to recognise more authentic, exciting profiles such as yuzu, calamansi and pomelo.