APRIL: Vegan Friendly Roast Lamb
1st April 2022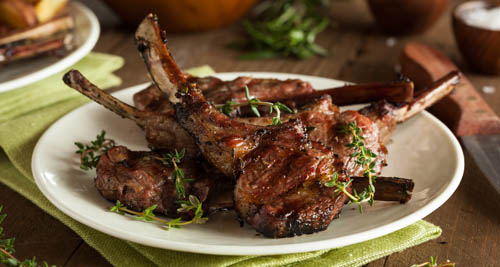 Lamb is a versatile meat which can be cooked in a variety of ways. In the UK, the most common use of lamb is probably in traditional roast dinners and served with a mint sauce and rosemary. Slow cooked in tagines, minced and grilled into kofta or marinated butterfly leg of lamb – lamb is appearing as a favourite in more barbecue dishes. Most lamb is grass fed which gives a unique flavour, slightly gamey. robust. slightly fragrant and grassy. These flavours come from the lamb's fat, specifically the branched chain fatty acids.
Classic pairings
Garlic and rosemary is a classic pairings for lamb dishes, alongside mint which works so well as it's able to cut through the fattiness of the lamb. Other pairings include Mediterranean flavours such as aubergine, red pepper and feta. We are recently finding studies showing  mackerel compliments lamb well as they share some of the same molecular make up. Alternatively, a dash of coffee can be added to lamb jus to elevate the flavour of the lamb.
At Create Flavours, we have a wide range of savoury meat flavourings that provide an authentic taste profile. Our lamb flavourings have been tested in seasonings and marinade applications. This means they are designed to add a natural complete taste that may be lost during your manufacturing process. After evaluation, our traditional lamb flavourings meet the creamy, fatty, roasted, brown taste profiles you expect with strong meat flavours.
Find out more
Create Flavours are British producers of natural and clean label, savoury, sweet and beverage flavourings. Working from our allergen-controlled facility in Somerset, we design and manufacture premium food and drink flavourings and extracts.
If you need support with your savoury application, get in touch with your Account Manager who will be able to go through our range of lamb, beef, chicken or pork natural flavouring collections.
To sample Vegan Friendly Roast Lamb or any beverage, savoury or sweet flavourings, call 01275 349 300.