DECEMBER: Negroni Cocktail
1st December 2020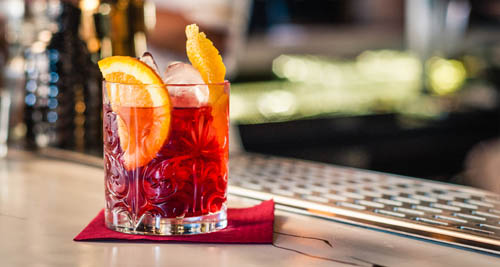 As we move through the winter months we take a look at drinks menus around the globe and flavourings that could add a celebratory twist to Christmas. The Negroni is a classic aperitif cocktail perfect for the winter cocktail party season (albeit online!). This traditional cocktail is equally as refreshing sipped over ice in the sun.
A classic Negroni is made from equal part of gin, campari and martini rosso then garnished with a slice of orange to create a slightly bitter orange profile. In the UK, there is an increase in NPD in this area, including the chocolate Negroni, mezcal and even a winter spiced Negroni.
This drink, with an Italian heritage, was apparently named after Count Camillo Negroni in Italy.  According to tradition, whilst in his favourite bar, the Count asked for a stronger version of his preferred cocktail the Americano Campari (Martini Rossa and soda). The bartender switched out the soda for gin and the rest is history (despite there being no 'official' documentation to support this story!).
Bitter drinks make the perfect aperitif cocktail or pre-dinner drink. When the bitter receptors in the stomach trigger the release of ghrelin (the hunger hormone) which kick starts the metabolism perfect to get you in the mood for a delicious dinner! The bitterness calls for food pairings that are bold in flavour; salty dishes and strong cheeses. Charcuterie boards laden with olives, pickles, Italian hard cheeses and salty cured meats compliment the flavour.
Our Negroni flavouring is successful in beverages (both non and alcoholic) as well as bakery. Our natural cocktail flavourings are also suitable for various sweet applications such as compotes for crumbles, cheesecakes and biscuits.
We have expertise in developing natural flavouring solutions for no and low alcohol drinks, beers, ciders, spirits, hard seltzers and soft drinks. Please get in touch with your Account Manager, click here if you would like to arrange a presentation about our Beverage capabilities.